Post by aniihya on Sept 17, 2019 15:30:29 GMT -6
Link to character thread
Plot:
The year is 2069. Japan. Most people have moved to the cities or already live there, while rural areas are usually sparsely populated with some older folks living there and some younger folks moving there to escape the hustle and bustle of the cities or at least those who can afford it. Meanwhile the island of Rishiri has remained rather stagnant in population as not many have found the need to move to the city due to sufficient employment in either a kombu cultivation plant or in one of the IT related offices there. But that doesn't mean that there are none that dream of leaving this island even though their chances are slim.
That is why a group of young people created the City Life Dream Organisation. With it they created an idealized idea of how the city is based on the information they know about metro Tokyo and their inexperience due to not being there. Tokyo is a dystopian cyberpunk nightmare behind a stylized neon facade due to marketing, plagued by homelessness, cybercrime and a recent skyrocketing crime rate due to a corrupt government since the 2050s. Though there are hints of this, the CLDO tends to ignore this not wanting to give up on their optimism. Since their only chance of going to Tokyo is a mere vacation and various reasons make it hard for them to leave this island, they have begun trying to make Rishiri more like their dream, even though it will show a stark contrast to Tokyo.
While Tokyo is gritty, dark, full of sinful excess, wastefulness, despair and broken cyborgs, Rishiri might end up the exact opposite but probably as flashy as the Tokyo ads are. Since Rishiri runs on 100% renewable energies, it is still quite different from Tokyo with its renewed nuclear power plants. Along with the optimism on Rishiri, the end result will end up completely different to Tokyo. Only issues tend to be budget, but along with salvaging scrap from the mainland for functioning electronic parts and plenty of technical knowledge, a decent result may be possible.
CLDO HQ/Hangout building: On the outskirts of Kutsugata on Rishiri, there is an illuminated stone path that leads to the CLDO HQ (aka "The Hangout"). The Hangout is a medium sized residential building with twelve rooms. You cannot miss the building because of the purple neon lighting on its facade. (Ideal pictures not found for it so imagine it.) The Hangout has a passcode entrance and the lobby/entrance room is decorated in an izakaya (Japanese bar) style with RGB LEDs on the walls. To the right there is a narrow staircase going up to the second floor. On the first floor aside from the lobby, there is a tech room, a workshop, a medical bay, a conference room, a restroom and a relax room. On the second floor, there is a guest room (for use by visitors or by members who need a temporary stay in emergencies), a bathroom, a project room, a projector room and a couple general purpose rooms. On the second floor there is a narrow stairwell to the roof. The roof is fenced off for safety reasons but the roof as some potted plants and two benches. The Hangout has a basement, however it is currently being renovated and progress on the renovation is rather slow at the moment.
CLDO members: The CLDO members range from high schoolers to adults in their 40s. They were rather unsuccessful in getting any older people onboard with their ideas. The members are united in the wish to at least recreated the modern neon aesthetic they think of metro Tokyo at least on their island. They have even been approved by the city council for minor funding to think of ways to revamp the city to attract tourists or potential residents and more funding could be possible for them to apply their technical knowledge to revamp the area.
Rishiri: An island off the coast of Hokkaido. It has long winters going from October to April/May and mild almost spring-like summers (like highs of 20°C on average). It has a single large mountain that is 1721 meters high. The islands population in 2069 is about 6500, slightly higher than its 2019 population. The largest town is Kutsugata with a population of 3000. In 2035, the island ring railroad was built to decrease reliance on motor vehicles to travel the island and the railroad makes a complete loop around the island. Trains come once every 20 minutes from 5:30-23:00 hrs.
Tokyo in 2069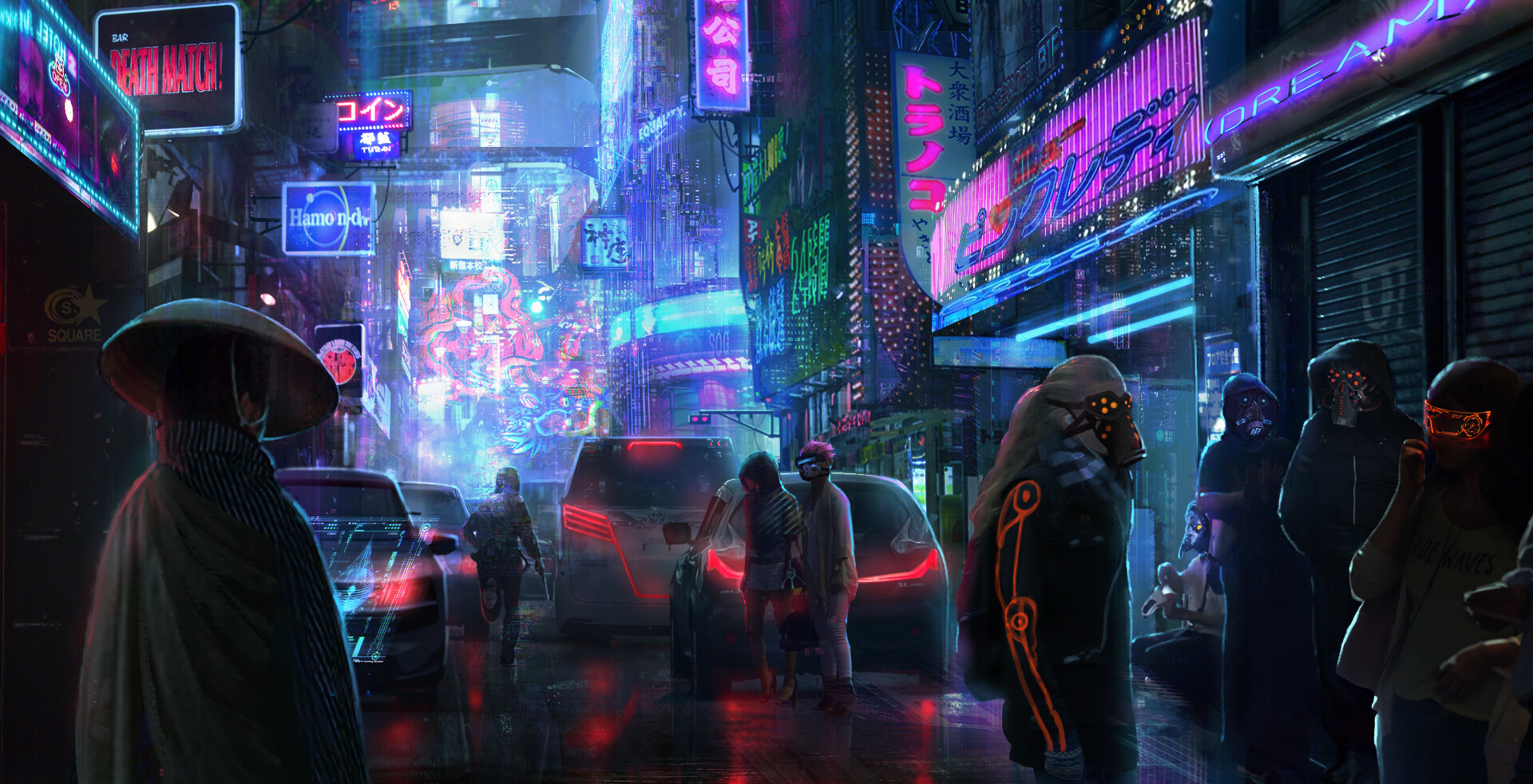 Character sheet:
Name
Age
Sex/Gender
Appearance
Clothing
Occupation (you can also be a student)
Cybernetics (yes/no, to what extent)
Special interest
Special knowledge
Goals/dreams
Likes/dislikes (optional)
Sexual orientation (optional)
Personality
Background